In October 1992, we officially opened Wild Edibles, dedicating ourselves to seeking out and making available the finest of all possible fish and more. We put a couple of thousand dollars together, bought a couple of ice chests, and began making deliveries in our own cars. We stored inventory at home.
In addition to our now-famous mammoth scallops, other signature items emerged almost immediately: wild Alaskan King salmon, line-caught local fish, hand-picked Maine crabmeat, small-farm organic produce . . . word spread, customers came, customers stayed. By the start of 1993 we'd bought ourselves a van, rented a space, sprung for a 120' walk-in and began buying, processing, and distributing all over Manhattan (no more Atlantic Cod next to the peanut butter and jelly!). In March of that same year we hired our first employee.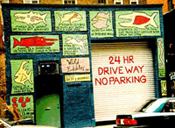 Elizabeth St. 1998
Soon we realized that not everyone demanded or required the most exclusive or exotic product, but the need for top-quality freshness and the service to back it up existed in all categories. We decided to broaden our line to include the best we could find in the most asked-for items as well. Filling the needs of our customers never meant compromising on quality.
We were convinced we were missing the boat by not using Elizabeth Street as a retail space as well. In June of that year, we opened the doors of our downtown location to the grateful, under-serviced shoppers of SoHo, and grew the retail end of our business.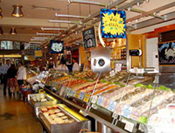 Grand Central Market
The tiny SoHo operation grew into the flagship Grand Central Market store, open since 1999. Now, its two stores, which carry almost no frozen products, are both unique among each other and compared to the typical grocery store.
The Murray Hill location opened in 2001 as primarily a retail store. When sales of the prepared foods took off, the company decided to re-tool and focus on a seafood bistro and oyster bar concept, which re-launched in March 2007.
Wild Edibles always strives to provide our customers with exactly what they want, when they want it. These key elements are the foundation that have served as our business philosophy since our inception, and will always guide our business practices.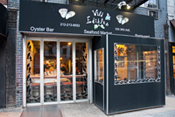 Oyster Bar & Market
Just like you, Wild Edibles is concerned with the issue of sustainable seafood. Wild Edibles has been in partnerships with the leaders of Ocean Conservation organizations since 2006. Using scientific research and strict criteria we can determine how sustainable our seafood specialties are.
Using these guidelines while working with our vendors and fishermen, Wild Edibles strives to source fish that has been harvested responsibly. Wild Edibles can help you make informed choices about the seafood you serve. We believe that together we can make a difference and affect a sea change that will guarantee the future of the oceans most valuable resources.